The Cutler family loved their neighborhood, but they were ready for a bigger home.
This is a common problem that we help many Paradigm clients solve.
In the Cutler family's case, they were ready to take their dark, dated rambler home and open it up, add square footage, and bring in all of the natural light their corner lot provided. The end result was a 5-bedroom, 4-bathroom home with 4,072 total interior square feet for their family.
Remodeling Project At a Glance:
Cutler Family Farmhouse
Type of project: Addition/Renovation
Square footage: 4,072 / 5 beds / 4 bath
Location: Oakton, VA.
Architectural style: Modern Farmhouse
The Paradigm team met with the Cutlers to take stock of their must-haves, their budget, and their nice-to-have items, so they could make their client's dream a reality. The Cutlers talked to a few other builders in the area, but they quickly found that Paradigm Homes is one of the only local builders that performs Pop Top Additions.
According to the Cutlers, "From the very beginning, The Paradigm Team was more personal than others, and your documentation showed that you listened to our needs and objectives and articulated those well. Lastly and most importantly, your communications were very timely and very helpful."
Paradigm Homes is committed to clear communication, so you know exactly what you're getting when you choose us as your builder-partner for your project. Our process is client-centric. We will never over-sell features that you do not want or need. We will always work to get all your must-haves on budget, along with as many nice-to-haves (we call them "the fun extras") too.
Popping the top on the Cutlers' home provided a win-win outcome for their family.
They not only added more space; They avoided having to tear down their home and start over, in a new neighborhood. Other notable improvements from the project include an open staircase, vaulted ceilings, and lots of new, large windows; All of these improvements lightened & brightened up their entire home. The combination of the new features and improved functionality of their newly transformed home provided an immediate improvement to their lifestyle that their original rambler-style home no longer provided.
In their own words, "We love the openness of the first floor. We especially love how the existing home was blended with the new additions (top and side). Every room is used, there's no wasted space, the rooms are 'right-sized', and each area of the home is both unique and yet still interconnected."
The Paradigm Homes team loved working with the Cutler family on their Addition/Renovation project as well.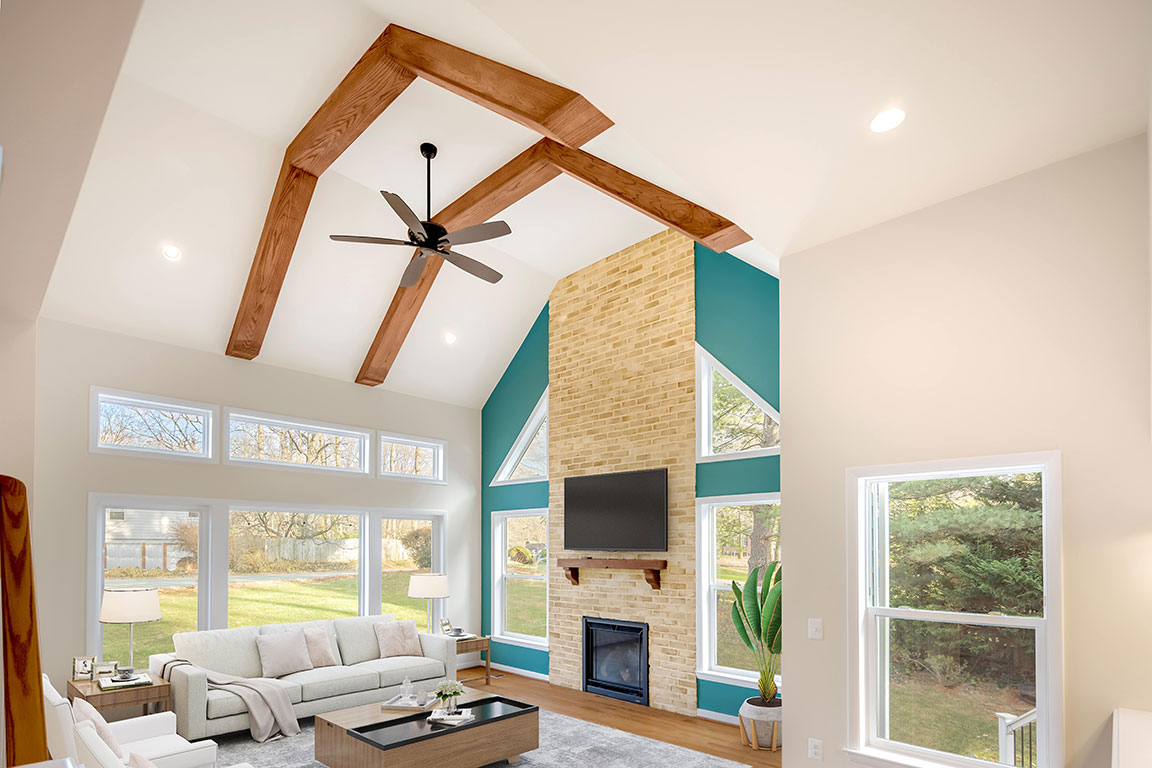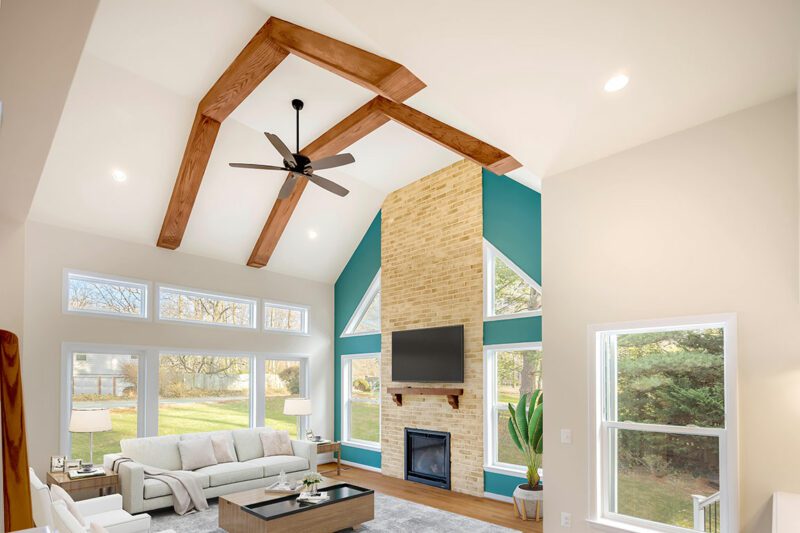 We added beautiful wood beams in the great room to highlight the vaulted ceilings. The open railing to the basement with an abbreviated knee wall at the countertop provides more counter space without obstructing the view through the rear French doors. Keeping with that theme, an accent ceiling was added to the dining room to delineate spaces without the need for walls or columns. We couldn't agree more with the Cutler family's well-executed 1st floor design intent – It's all about those clean and open-sight lines!
One brilliant feature of the home is a pocket office which is a great solution for when you need to work but don't want or need a full-sized room. You can close the door to keep the office hidden when not in use and you can avoid clutter by only having the essentials in your pocket-office space. The mudroom also blends fashion with function given its bench and cubbies that look beautiful while also providing amazing storage for their busy family.
Last but not least, gyms and workout spaces are common top priorities for today's families. The Cutler family was no exception – they really went above and beyond to create a gym space that is one to marvel at, with vaulted ceilings and a bright pop of blue paint, rubber flooring, and top-of-the-line gym equipment. Best part? This impressive gym is just down the hall from their Owner's Suite, providing easy second-level access to a complete fitness experience.
---
What the house looked like BEFORE the whole home remodel:
What the house looked like AFTER the whole home remodel:
---
Special thanks to the Cutlers
Thank you, Cutler family, for choosing Paradigm Homes to make your dream for a fresh, modern farmhouse come true! We love how this project turned out and we look forward to highlighting more successful custom projects and more client stories about their journey with us.