Whether you realize it or not, your home influences your mood. It does so through more than features or amenities—its interior design can shape your day. Light, layout, decor, and other elements create this effect, yet you can adjust them to suit your preferences. To build a home that supports your lifestyle, work with a professional Custom Home Builder.
Individuals seeking such guidance in Alexandria, VA, can turn to Paradigm Homes. We are Northern Virginia's leading Design/Build specialists who offer a complete range of services: whole-home and addition construction, consultation, financing, and more. Whether you want a luxury home built from scratch or a Pop Top Addition on an extant structure, Paradigm can help you achieve it. Plus, by working with us, you support the Paradigm Foundation and its work for those in need around the world.
Below, we outline the design elements that affect mental health and how to configure them to support your well-being:
What "Design" Encompasses
The term "interior design" involves a variety of elements that, taken together, create a cohesive effect on individuals. These elements include light (natural and artificial), space, layout, colors, texture, decor, and natural features.
While not exhaustive, our list contains the design elements with the greatest effect on mood, according to research. They are also factors that Paradigm designers and builders consider while constructing homes. You, too, should consider these aspects of design carefully.
Design Elements that Affect Your Health
Light


Given the vast influence that sunlight has on all living things, it's no surprise that light affects people's moods. Indeed, research indicates that the availability of

sunlight factors into many home sales

. Think back to the last time you walked into a sunlit room: didn't it immediately lift your mood?



You can

design a luxurious home

by making natural light a primary source of illumination. Floor-to-ceiling windows can achieve this as well as an "open concept" design that refrains from walling off rooms. Also, note that artificial light does not relieve anxiety and depression the way that sunlight can.
Space & layout


Two further design elements that affect inhabitants' health are space and layout. By

space

, we mean the amount of open area; by

layout

, the physical configuration of the structure's indoors.





People tend to prefer open spaces to cramped rooms. One reason for this is the effect that open areas have on our mental health. Clean, uncluttered spaces support good moods and can even boost creativity. Careful design can facilitate this state.





However, maintaining open spaces depends on your home's layout. Position furniture and belongings to allow freedom of movement. You might also consider the year's

trending home styles

to create an up-to-date atmosphere.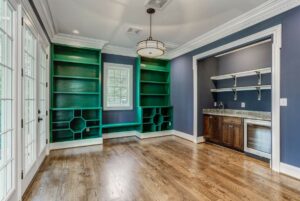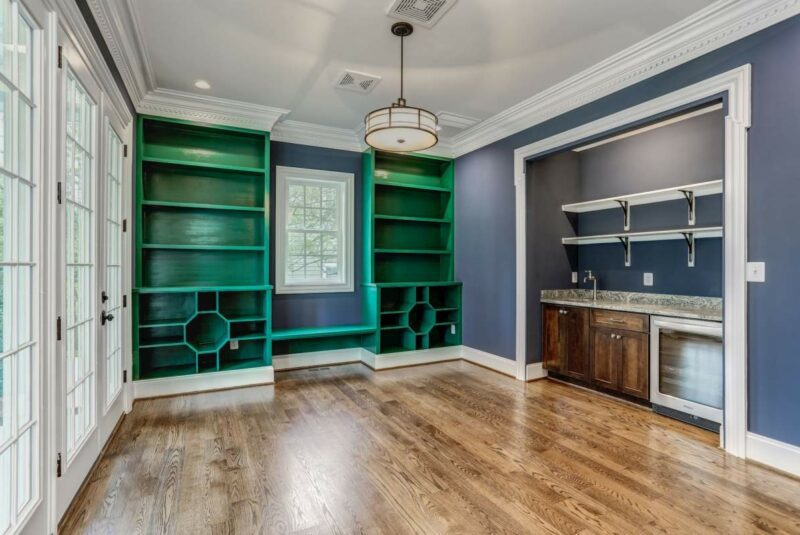 Colors


Another common design element with well-documented psychological effects is color. Encompassing wall paint, flooring, ceilings, decor, and more, colors influence our perception of rooms. For instance, certain colors are either "warm" or "cool."





A variety of factors shape a color's effect on us.

Brightness

and

saturation

, for example, refer to colors' pureness and lightness, respectively. Their presence or absence makes colors appear brighter or darker, which changes the "mood" of a room.





"Warm" colors like yellow, red, and orange can spark activity or anxiety. "Cool" colors like green, blue, and purple relax us in the summer and feel cold in the winter. The complexity of colors' effects branches out from here.



Decor


While decorative elements involve artwork, they can incorporate many indoor details: antiques, photographs, and even bookshelves. Hanging paintings can create a positive space, but you aren't limited to that avenue.



Decoration can add feeling and texture to your home's interiors. For instance, you could use the beach as a theme in your living room, which may remind you of bright days and happy memories. Work with your designer on the potential for each room's decor.

Natural materials


A final element that affects a home's inhabitants is the use of plants and other natural materials. Similar to the sun's effect, nature boosts humans' moods because of our biological programming. Make use of this fact by including nature in your interior design.





Plants and flowers suit virtually any room that has ample light. What's more, as a natural air filter, they freshen up and remove allergens and pollutants from the air. They also beautify a space and support a relaxed atmosphere in your home.





Additionally, consider how your

outdoor living space

affects your indoors. For instance, do you have a patio or deck that's easy to access from inside? What about a screened-in porch, which can provide the best of both worlds?
Custom Home Builder Team Available Throughout Alexandria, VA
You can make your home a positive influence on your mental health. Just reach out to the Custom Home Builders at Paradigm Homes and tell us about your project. We are the Alexandria, VA, region's provider of Design/Build services, Pop Top Additions, and other home creation tasks. Our team creates unique homes for people that want to live in their dream house from now on. Call us today at (703) 476-5877 or fill out our online form for morec information.