One of the most popular trends in custom homes that we've seen recently is the use of NanaWalls in Northern Virginia.  For those of you who are unfamiliar with the term, a NanaWall is a glass wall system that opens and closes completely and allows you to enjoy your interior space in a variety of weather conditions.  Because the NanaWall is made of floor to ceiling glass, even when it's closed completely, it gives you the feeling that you are sitting outdoors.  Its a great way to accomplish "bringing the outdoors in" like we have been discussing in our last few posts.
NanaWalls are also perfect for homes in Virginia, because, as everyone who has lived here for more than twelve months knows, the summer, and even the spring, can occasionally become a bit too hot and humid to enjoy the outdoors.  With NanaWalls, even on the hottest days you can enjoy your backyard for more than five minutes at a time.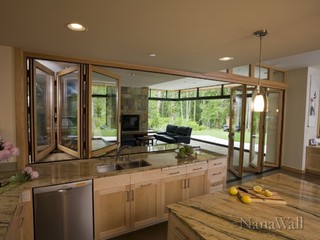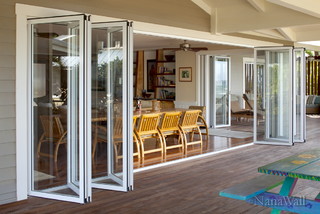 We like to share some of the trends in home building that our customers seem to be enjoying the most, and if there is a trend that you've noticed that you'd like us to highlight on this blog, just leave a comment below!  And as always, if you're interested in talking about your custom home project, please contact us at any time!