In the past two years, we have transformed how we design our homes. The popularity of efficient storage space, multi-purpose rooms, and hygienic interior design reflects our adaptations to current events. Now, forward-thinking Custom Home Builders offer their creativity and experience to produce homes designed according to how we live today.
Paradigm Homes is the top Custom Home Building service in McLean, VA, and Northern Virginia. Our expertise in Design/Build projects has allowed us to assist numerous clients to create their ideal homes. We also offer Pop Top Additions, Project Consulting, and much more. We dedicate ourselves to helping families in Northern Virginia create and live in their dream homes. If you're thinking of building your own home in McLean, contact Paradigm Homes.
Below, we discuss some of the design trends that have developed for spending more time at home:
Installing Additional, High-Efficiency Storage
The first trend is an increasing amount of storage space available in our homes. Moreover, these storage areas must be efficient—they should hold as much as possible while remaining organized.
Designers can incorporate storage into unused areas within homes. For example, in homes with more than one floor, the space underneath stairs can be converted into a series of storage cabinets, shelves, or closets.
At Paradigm Homes, we encourage our clients to consider every possibility in the design of their Custom Home and get creative with unused space. If you want to maximize your storage space, tell our Custom Home Builders to incorporate that into their design.
Creating Multifunctional Spaces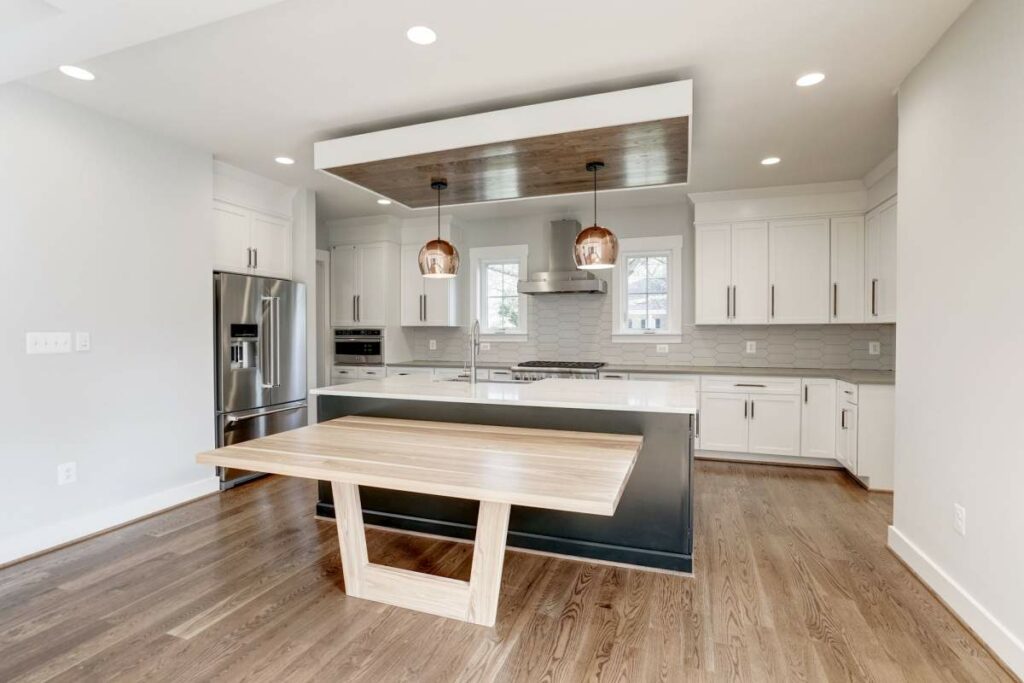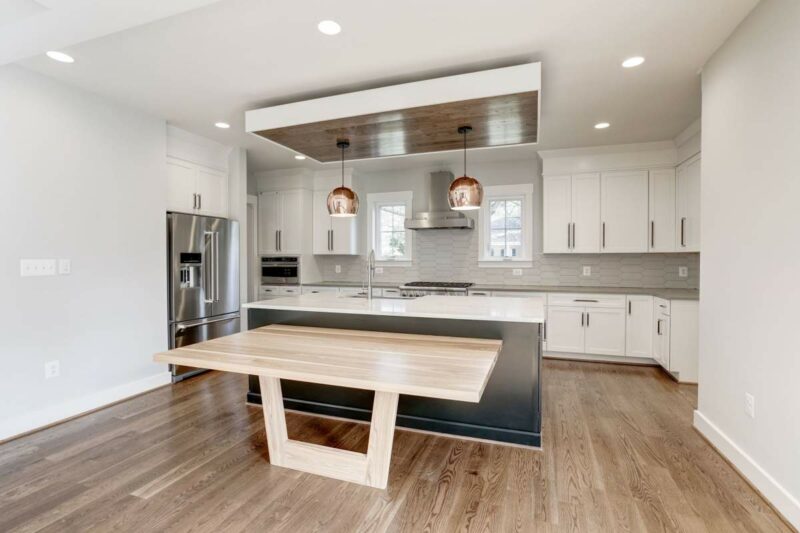 Another recent trend among house-bound homeowners is a desire for interiors to serve more than one purpose. For example, people may want an open area to exercise, more home office space, and a quiet place to study. Traditionally, these areas would exist in separate rooms. But with only so much square footage to spare, multifunctional spaces–single rooms that serve multiple purposes–come into play.
Features like a convertible desk (which can flip up into a wall), a multi-purpose island, and durable cabinets/shelves can help. They allow a single room to transform from a home office to a gym in minutes. For those seeking to build a home that serves all their needs, Paradigm's Custom Home Builders and designers can create spaces that fulfill multiple functions for their inhabitants.
Including Features That Promote Cleanliness
Still another recent trend in home design is incorporating features that promote hygiene and cleanliness among inhabitants. Indeed, this tendency has reintroduced thoughts around a healthy home and sparked research on how home design affects health.
You can incorporate easy-to-clean materials for high-touch surfaces (kitchen counters, dining tables, staircase handrails, etc.). Moreover, materials like copper, silver, ceramic, and porcelain contain antimicrobial properties. When we design Custom Homes for our clients, we prioritize health and safety. This consideration and dedication to our clients help place us among the best Custom Home Builders in the area.
Minimalist Interiors
An added benefit of using copper, silver, ceramic, or porcelain in your home design is that these materials fit into an additional trend: minimalist interiors. The tenets of minimalism–sharp lines, sleek appearance, and bold colors/shapes–reduce clutter within homes. Homeowners have found that such clutter can be an obstruction and irritant when they spend a lot of time at home.
Popular minimalist details include the use of the aforementioned materials as well as glass to allow for ample natural light. Our designers can also use bold paint colors–like white and grey tones–to let your decorative elements stand out. Doing so allows you to carefully choose your decor and enjoy an open, airy atmosphere in your home.
Natural Colors, Materials, and Features
A final trend we've noticed can work in tandem with minimalist design: the adoption of natural elements in home design. Some homeowners choose green paint tones for their walls to recreate a natural atmosphere. Others want a lot of windows to capture natural light as much as possible.
Still others prefer to incorporate natural elements into their materials and features. Hardwood floors, for instance, make a bold statement, as do wooden cabinets. You might also want white or grey tones on your walls so you can then place plants throughout your home. The foliage will stand out against such a background, becoming a focal point.
Incorporating natural features and colors can help you feel closer to nature while you spend more time at home. Such a healthy design boosts your and your family's health, filling empty spaces with nature's beauty.
Paradigm Homes: Skillful Custom Home Builders in McLean, VA
After all that has happened since 2019, many people now spend more time in their homes. In response, they are changing their approach to home design. If you want to Design/Build your own home from top to bottom, consider working with the experienced Custom Home Builders at Paradigm Homes. We've created Custom Homes throughout McLean, VA, and Northern Virginia for over 14 years now. Our personalized design process gives our clients a say in every aspect of their home's construction. Contact us today at (703) 476-5877 to find out more about our services in Custom Home Building as well as Pop Top Additions, Project Financing, and more.