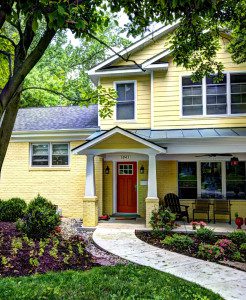 Families who live in a rambler, split-level or ranch style home are tired of their current layout are looking for a change, but may be unsure of how exactly to renovate. Moving is not practical, and a teardown and rebuild is not within budget. A great project to consider instead is a Pop Top Addition in Arlington, Falls Church, and McLean. Adding a second story onto a home not only adds a lot more space, but it makes way for new renovation opportunities throughout the house. Here are a few great projects homeowners can embrace with a Pop Top Addition.
Open-Space Concepts
Open-space concepts are one of the best and most popular home features that homeowners create during a renovation. People are beginning to lean toward the informality and familiarity these types of layouts can provide. Open-space concepts are most often thought of when designing a large shared kitchen, living, and dining space on the first floor. However, they can also be applied to other areas of the house, such as master bedrooms. By adding a second story with a Pop Top Addition, homeowners free up their first floor to be remodeled into an open layout, or can make the entire second floor a single master suite.
Bathroom Additions
For families that bump elbows a bit, especially when it comes to sharing bathrooms, a Pop Top Addition provides extra room to add additional bathrooms on the new second floor and/or to expand the bathrooms on the first floor. With added space, homeowners may finally create their dream in-home spa oasis by expanding their master bath and adding a large soaking tub. Or they may add another guest bathroom upstairs for their visitors' comfort.
Ample Storage Space
Considering the popularity of the open space concept, homeowners are looking for more creative and efficient storage solutions. With limited space comes limited or clunky storage options. These are both unattractive and impractical. Pop Top Additions in Arlington, Falls Church, and McLean give homeowners much more space to work with and more opportunity to increase their built-in storage solutions. Such examples can include hidden drawers in the kitchen that hold extra cooking utensils, shelves built into the side of staircases, walk-in closets, and more.
Built-In Technology
Many homeowners are looking for technological advancements to make their lives more convenient. Today's family wants simple yet effective technology built into their homes. Wi-fi connected appliances, automated lighting controls, automated garage openers, and automated window cleaners are becoming increasingly popular. With a Pop Top Addition, homeowners can incorporate technological advancements and smart home automation in more areas of the house, creating a much more intuitive and connected home.
Open Your Home to Renovation Possibilities With a Pop Top Addition!
Paradigm Homes offers Pop Top Additions in Arlington, Falls Church, and McLean, VA. Our Custom Home experts are dedicated to helping our clients experience building excellence and create the homes of their dreams. Pop Top Additions are a great way for homeowners to open up their homes to exciting, beautiful renovation opportunities, making it the perfect project for our clients looking to transform their lifestyle and their homes.
We offer Design/Build, Pop Top Additions, Custom Homes and much more. Design/Build services are some of our favorites to engage in with clients, as these services allow us to apply our extensive building and design knowledge with a client's vision in order to create their perfect home.
Contact us or call us at (703) 476-5877 to begin your project today!