The new year may bring new career plans, a growing family, retirement, or the opportunity to create your dream home. But whether your idea for a new home formed over several years or recently emerged, you must plan its execution thoroughly and carefully. Consider your financial parameters, determine your "must-have" features, and find a contemporary Home Builder service provider.
Look no further than Paradigm Homes for all your home building needs. We offer Custom Homes and Pop Top Additions to people in Falls Church, VA, and the surrounding region. Our team consists of experienced designers, project managers, and architects who will always put their best foot forward with your best interest in mind. Moreover, our work supports the Paradigm Foundation, which creates housing for those in need around the world. Contact us today at (703) 476-5877.
Consider Your Financial Parameters
To start planning your new Custom Home, check your credit report. Your credit score influences loan qualifications, mortgage rates, insurance costs, and the down payment amount that will be required. Regardless of income, ensure you have good credit to help make the process easier for you and your family.
Next, you should meet with a mortgage officer to get pre-approved for a land and home construction package. With mortgage pre-approval, you can accurately analyze your budget moving forward.
Determine Your "Must Haves"
With a budget in mind, you can start considering your wants and needs. If necessary, meet with a realtor to shop potential lots, paying close attention to their location, type, and size. Once again, Paradigm offers services in this vein—contact us for lot and land options, we sometimes have access to off-market deals.
Keep in mind that your lot can influence the design of your home as well as other building factors. Determine whether potential lots have on-site power, central sewer, and municipal water. If not, those items can affect your budget and you will have to factor them into the pre-building process.
Begin looking at home design items to determine which features you prioritize: a master bedroom? Energy-efficient design? Natural lighting? Make a list of features that you are unwilling to compromise on so you know how to best prioritize for your budget. Also, write down questions that you want to consult your builder about.
Meet with Your Home Builder
Although you must purchase land before beginning the home building process, you can meet with prospective Home Builders for relevant consultation. Involving Home Builders at the start helps ensure that you realistically visualize possibilities, as experienced designers can advise how your initial plans fit into prospective lots.
A full-service designer and builder has the necessary expertise to oversee your entire building process. Moreover, full-service builders can help keep you on budget as they measure and balance competing aspects and demands. A full-service builder includes architects, designers, and project managers to see the project through to completion.
Select a Floor Plan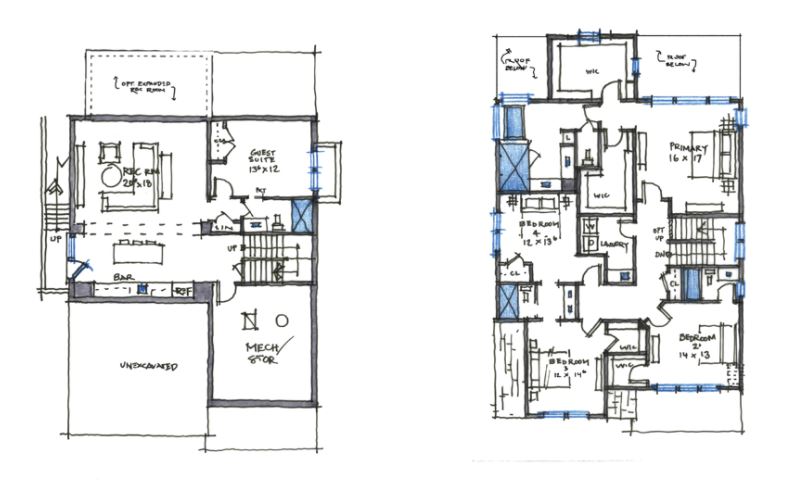 Going into the Home Building process, you may have an idea about whether to use a stock floor plan or to opt for a Custom Home. When you meet with your builder, ask them to go through your options with you. Take a look at floor plans that fit your style.
Remember to factor in the long-term compatibility of your Home Design. Young home builders may want to consider spare bedrooms for additional family members, while older ones may look into universal design plans for aging in place.
Paradigm Homes: Contemporary Home Builders Now Available in Falls Church, VA!
When you are ready to begin creating the home of your dreams, look to Paradigm Homes in Falls Church, VA. As contemporary Home Builders, we aim to manage the costs, time, and design implications of your home throughout the building process. We are committed to easing the stress of building a home and will create a design that accurately fits your life and aesthetic style. Contact us at (703)476-5877 to get started!